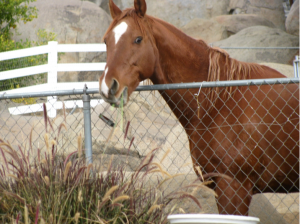 This is Boogie, my American Saddlebred. He is not well-behaved, a total "scardie cat" and sould be in the arena, not on the trail. Having said that, he is my trail horse. We log many miles together and have become best of buds!
My gal pals tolerate his bad behavior and allow me to ride with them. We travel throughout California together camping and at times treat ourselves to horse and spa resorts.
Here I will be posting about my travels and of course my bud Boogie. We run up hills, eat along the trail and stop at random times for photo ops! See why my friends tolerate me? Thank goodness they love me.
As you can see in this photo, he thinks all vegetation is his. Shortly after we took this photo the fence grew to keep him away from the landscape in the backyard.