We found our way to Winslow, looking for my past, Dad was born there and Grandma and Grandpa were business owners in the early 1900's. Time seems to have stood still pretty much in this town, which was great luck for me.
When Grandpa passed, Grandma opened a fountain called the Double Dip.. Which according to the 1937 Spring Flagstaff Telephone Directory was on the corner of 2nd and Kinsley Ave, which I believe to now be either of these.
Not sure…but I did find Dad's house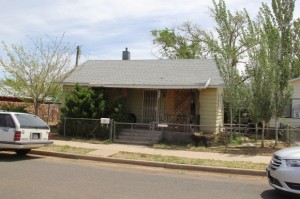 So enough of my history… there is a beautiful Hotel there named La Posada "the resting place" Fred Harvey decided to build this grand hotel along the Santa Fe Railroad in the 1920's. The construction costs alone were in excess of $1,000,000.00 in 1929. Total cost were rumored at $2,000,000.00 which included the grounds and furnishings, in todays world this would be just around $40,000,000.00. Winslow was selected for it's Northern Arizona location, most things to do there are within a days drive.
Fred Harvey famous for attention to detail and fine furnishing of the Hotels along the Santa Fe, and of course the Harvey Girls, Judy Garland stared in the movie, The Harvey Girls, about these girls.
The Hotel opened May 15th 1930, just after the stock market crash of 1929. The Hotel remained open for just 27 years. It closed for good in 1957, all the beautiful furnishing being auctioned off, and threats for years to come by the railroad to demolish the grand structure.
In 1997 Daniel Lutzick and his wife Tina moved in and started the restructuring of the beauty. It today is a living museum. A must see on your visit to Arizona. I took a few photos to share with you.
So much to see and no time to stay, our day was long and we had to head out…. next time I will be laying my head to sleep here…. now this grand hotel also has a history of ghost sightings… cant wait! I wonder if there is a supernatural lens for my camera?