Along Hwy 40, headed to Chama we saw a sign for the Petrified Forest, so we hung a right and took the 28 mile drive. This photo is of the painted desert, it took millions of years to create this beauty, formed from wind and rain, against the blue skies of Arizona it is truly a sight to see.
Yet another view of the beautiful desert.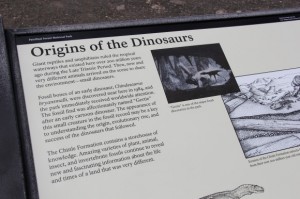 Paleontologists have studied fossils in the park since the 1920's, finding skeletons of the Phytosaur which is one of North American's earliest dinosaur fossils and also found was a skeleton of the aetosaur Stagonolepis. These fossil finds are important to finding out what the world was like over 200 million years ago.
The Petrified Forest is like a land lost, trees felled laying for millions of years to be covered with a mix of silt, mud and volcanic ash from distant volcanoes to create what we viewed today, petrified wood. The minerals from the silica-saturated water, iron, carbon and manganese created patterns with blended colors of yellow, red, black, blue, brown, white, and pink. These chucks of petrified wood are surprisingly heavy weighing up to 200 pounds per cubic foot.
We travel long the 28 mile drive and come across a natural bridge named Agate Bridge, a fallen tree petrified. Centuries of scouring floodwaters formed this gully beneath the fallen tree, forming the bridge. In 1906 visitors form a group to save this bridge, in 1911 they formed piers to assist in sustaining the bridge and then in 1917 placed the concrete span. If discovered today, the parks would have let it erode naturally.
The area around the bridge shows the signs of many years of water swirling and flooding to create beautiful rock formations, in what I believe to be sandstone. This formation was begging to be photographed.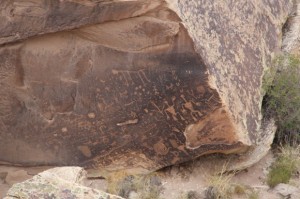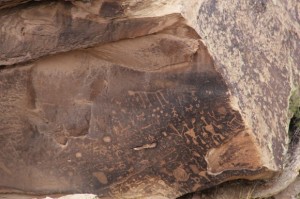 Along the drive we find Petroglyphs carved into the stones, they call this area Newspaper Rock, you can clearly see why when you view these rocks with messages carved into them. What do they say? I am fascinated with these carvings, such history that survives the elements. Love the man with the large private parts… who was he and why did they feel compelled to share this story?
The Painted Desert and Petrified Forest is a place of great wonder, beauty and history. If you happen along Hwy 40 and see the road sign, hang a left or right and take the tour, well worth the time and delay in arriving at your destination. It took us about 2 hours and we really could have wondered for many hours longer. Bring your camera, water and some hiking shoes.