This year AZ received Monsoons like none other. We had our 100 year flood with 6 inches within hours in many communities, cars were destroyed, homes flooded and with the water comes new pests, Mosquitoes.
Fall is here and the evenings are cool, and we have endured a long hot summer with 100 degree nights. Being outside in the cool evenings is a joy, but not with these pests. Last count I had 37 bites and now look like I have chicken pox.
I am not a fan of chemical bug spray's, so turning to Pinterest I found many natural chemical free alternatives.
I found this one at www.livingwellspendingless.com. Great for your sensitive skin, and it smells so much better than chemical bug spray. Witch Hazel is a great replacement to alcohol in your spray and a natural astringent. I choose Humphrey's a bit more expensive but it is all natural. Witch Hazel isn't drying like alcohol and has creates a natural moisture balance. Baby Oil I purchased at the Dollar Store..
I choice the following essential oils
Lemongrass by Now
Lavender by Now
Cinnamon Cassis by Now
Eucalyptus by Now
Peppermint by Young Living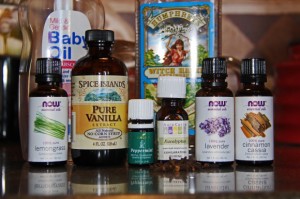 Additionally you will need Vanilla Extract, with no added sugar, I always use Spice Islands as it has no sugar additives at all, and whole cloves.
Measure in a 2 cup measuring glass 2/3 cup of Witch Hazel
Add Baby oil to make 1 cup of liquid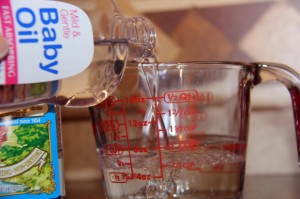 Add 1 teaspoon of vanilla extract
Add essential oils I used 8 drops of each
Add whole cloves, I used 6
Lemon, Lavender and Eucalyptus are found to be natural deterrents to mosquitoes
Stir all ingredients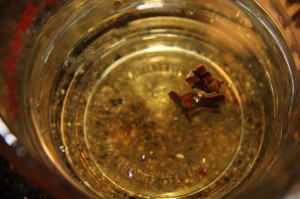 I let mine sit for a bit allowing the cloves to release a bit of their smell into the liquid.
Pour into spray bottles or even in a small bottle as this mixture is very easily rubbed on as a lotion.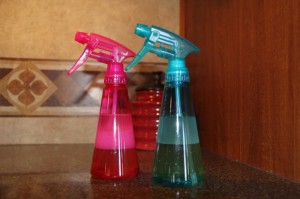 This mixture not only smells wonderful but it works fantastic, I was able to sit outside for the first time in weeks, with out a BITE! Woot Woot…