In this section I will be listing events and asking for all of you to inform us of events in your areas. It seems to me that we all want to be at all places at all times and to have missed an event that you could have attended but never knew it existed is even worse!
If we can find many of them here in one location how perfect can that be! As I travel I find events all over, this weekend I attended the Second Annual Horsemen's Reunion in Paso Robles Ca. So many of the residents that we met during our stay in Paso had no idea themselves that the event was happening right down their street at the fairground. Horse people talk to horse people and wine people talk to wine people… well girls not us, we will be talking to both! So let's get our heads out of the barrel and into Horsing around postings and find out what we won't be missing.
As I shared the event with the wine pourers at the tasting bars, they had no idea it was taking place and of course what fun I had telling them about it.. non horse people enjoy watching horse events and horse people enjoy wine events..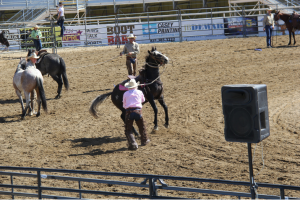 This is a photo of Larry Mahan training his colt, the colt had just laid down on him and then up as quick as he went down. Larry is world famous cowboy, 8 time World Champion Cowboy with 6 All Around World Championships, to be able to watch him start a colt and work him for 6 days , then have the opportunity to purchase this colt at the event's end auction, well amazing! This little colt only took $1,400.00 at auction, he needed a lot more time.
I only heard about this event at an event I attended as it was posted in the ladies room! The things we learn in the ladies room.