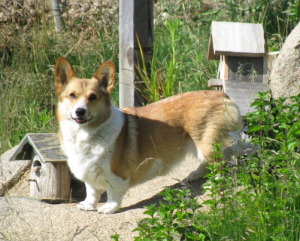 Little did I know that this sweet and funny character would change my life, entirely!  Man's best friend brought me friendship and a husband… nice right? Gracie came to me when my life was starting its new chapter newly divorced and living alone for the first time in many years, needing someone to come home to at night I went on a search for just the right dog.
Each Friday evening our Horse Club puts on dinner for its members, a gathering of hungry horse loving people. One if our members had posted Corgi puppies for sale, just what I was looking for, well really, he was!
About a year and half prior to this night my trail buddy and dearest friend Val and I had been out riding in our local hills. It was a cold and windy day we had just passed over a small crossing in where an animal had been killed and the smell of death was strongly in the air. Our horses were excited by the weather and now the smell had them on high alert. As we rounded the bend in the road ahead we heard voices and then appeared a sight that I will never forget.
This is where the weather statement mentioned before becomes really important, remember the wind is blowing, it blows the long and flowing tail and mane of a tall and beautiful black Friesian horse, upon its back sat the most incredibly handsome man, draped in a long over-coat, his own beautiful blonde hair blowing in the wind, his eyes blue of a wolfs. He struggles with his horse to keep it still, I find myself staring at him, not really hearing the conversation with his friends and Val. They continue on their ride, in the other direction, us on ours. To say the least I was smitten, and now on a quest!
Well a year and a half later, guess who has puppies and guess who needs one! Life, isn't it sweet. You just sit and wait and yes as corny as it sounds love finds you. So my dear little puppy Gracie becomes my saving grace, bringing her mommy love in many ways. Thank you Gracie Mae, you forever will be my saving "Gracie".
She continues to bring me joy and laughter, such a funny little dog. I hope you will enjoy her adventures too.